The extreme southwestern point of Britain is calmed by sea breezes, peppered with palm trees and warmed by the Gulf Stream—the charming English Riviera. Devon and Cornwall's charms are many: discover a golden peninsula of beaches, summery seaside towns filled with activity, quiet biking paths, rugged cliffs, elemental moorlands, and sensational food and drink. With a bit of background, here are some of our favourite stops inland and along the sea.

A Bit About Devon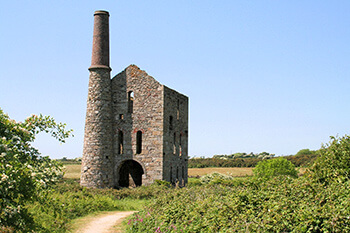 Also known as Devonshire, this county in England's southwest has traditionally been a place where people made their livelihoods off the land and sea: fishing, mining, and farming, which suffered a decline until the rise of tourism arrived with the railways in the 19th c.
Historically, the region has been inhabited since the Stone Age, a separate kingdom of its own until it was absorbed into England. Inhabited by the Dumnonii, a Celtic tribe who lived here during the time of the Roman invasion in 43 CE and who spread to rule both present-day Devon and Cornwall by the 5thC. While there is a small Jewish population remaining, you will also find two of Britain's oldest synagogues in Plymouth (1762) and Exeter (1763).
A Bit About Cornwall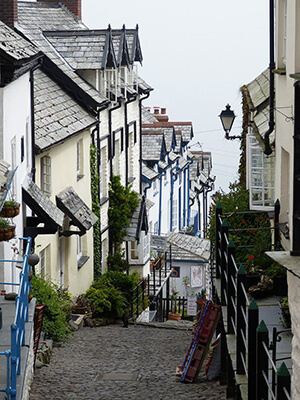 The southwestern tip of the English peninsula, Cornwall is bordered by the Celtic Sea to the north, the English Channel to the south, and the Tamar River, which forms its eastern border with neighbouring Devon. This is the homeland of the Cornish people, who are recognized as a distinct ethnic group, one of six Celtic nations (along with Brittany, The Isle of Man, Scotland, Wales, and Ireland). With their own flag (St. Piran's Flag) and a distinctive language of its own, the region has been inhabited since Neolithic times. You may see early Bronze Age stone monuments and monoliths that remain.
As with Devon, Cornwall had large reserves of tin, which is needed to make bronze from copper—the Cornwall and West Devon Mining Landscape is a UNESCO World Heritage Site. With so many mining towns, separate laws for tin mining evolved, with a Stannary Court presiding over jurisdiction for the miners of the region—laws so old that they predate the written legal codes in Britain, highlighting just how important tin was to the English economy during the Middle Ages.
Food & Drink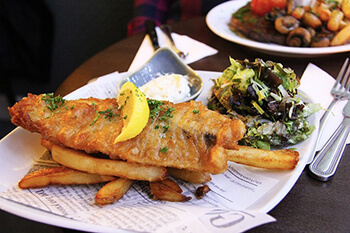 The traditional dairylands of Devon have produced the quintessential afternoon tea (it's simply known as 'cream tea' in the region) staple, Devon clotted cream, ideal with scones and jam. The Cornish pasty, a savoury baked pie in a half-moon shape, has been referenced in recipes since at least the 13thC and brought all over the world, as Cornish miners resettled.
However, the newer developments of Devon & Cornwall's food centres around Padstow, Cornwall. A fishing port when the now-famous restauranteur, Rick Stein, first converted his nightclub business to a seafood restaurant in 1975, he has spawned an empire of restaurants in the region. These days, you'll find many Michelin-starred (and Bib Gourmand) mentions in both Devon and Cornwall, taking advantage of local produce and the freshest seafood. There are also excellent wineries, Camel Valley Vineyard being the first English wine producer to receive a Royal Warrant.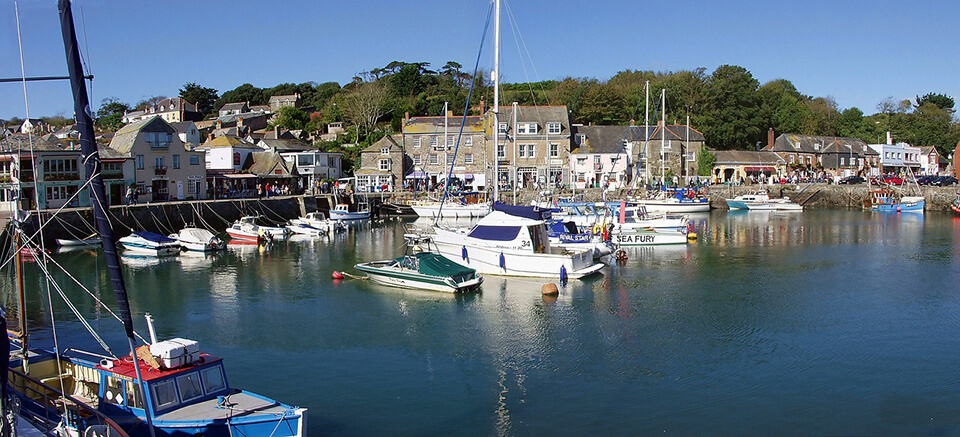 England's Best Trails & Paths

We're particularly fond of the Camel Trail, nearly 30 kilometres (18 miles) of paved pathways, where you can freewheel along some of Cornwall's prettiest country landscapes that characterize this ex-railway line. In a relatively compact ride, you can roll through a contrast of scenes, from seaside rides to estuaries, thickets of forest, and even the characteristic moors of Cornwall. Other notable trails include the Tarka Trail in North Devon, a traffic-free route more than 52km (32 miles) long, as well as the entirety of the South West Coast Path, England's longest waymarked long-distance footpath (and a National Trail), running more than 1,000 kilometres (630 miles) along the coasts of Devon and Cornwall.
The Moorlands
Dartmoor National Park, Devon

You'll find 954 square kilometres (368 square miles) of moorland and exposed granite hilltops (tors) here, the largest area of granite in Britain. You will also find thick layers of peat in the terrain, along with spooky bogs and mires—including one that inspired Sir Arthur Conan Doyle's Great Grimpen Mire in The Hound of the Baskervilles. A place that fared poorly for agriculture, its protected status means it's a boon for rare flora and fauna. You'll see a profusion of lichen and moss, low shrub that grows well on the heaths, as well as birds, bats, salmon and trout breeding grounds, amphibians, insects, and even two types of rare shrimp! A little bit of quirk comes with the annual event known as the 'Ten Tors Challenge', first devised by the British Army for young people aged 14-19, who compete in teams to complete a walk of differing lengths between ten tors, faced with unpredictable weather and terrain on the moors.
Bodmin Moor, Cornwall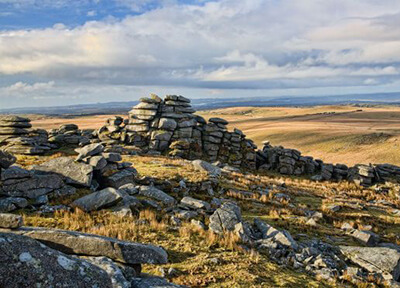 Once known as Fowey Moor after the river flowing through it, Bodmin Moor is a granite moorland in northeastern Cornwall. You'll find the highest point in Cornwall here, at Brown Willy, which stands 417 metres (1,368 feet) high. The rolling moorland is part of an officially designated Area of Outstanding Natural Beauty. Another important habitat for birds, it's a prime spot for 10,000 Eurasian golden plovers who winter here, as well as 260 breeding pairs of European stonechats. Legend has it that the 'Beast of Bodmin', a big cat or puma prowling the area, has attacked wildlife, but there is no verifiable evidence for such, given the lack of food and the harsh climate. In other fantastic stories, Dozmary Pool is said to be the lake in which Sir Bedivere, in the legend of King Arthur, threw Excalibur to the Lady of the Lake.