Many of the local guides who work with us in Cambodia & Vietnam have been doing so for many years and bring exceptional depth and local knowledge to our trips in the region. Below are a few rapid-fire questions with my good friend and work colleague, Fin. 
---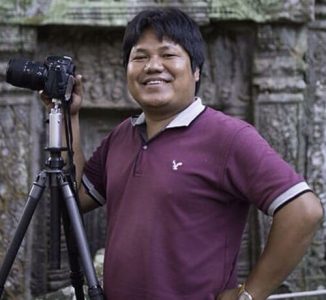 Years in Travel Business: 17 years
Years working with B&R: 13 years
Nationality: Cambodian
Place of Birth: Siem Reap
Current hometown: Siem Reap
Trips guided with Butterfield & Robinson: 50+
When did you first become interested in tourism?
Around 2001 tourism really started to increase in Siem Reap and after working in information technology for more than a year, I was ready to find a career that was a little more dynamic and allowed me to showcase my in-depth local knowledge and love of Siem Reap.
What stands out as one of the most memorable on-trip moments? 
Encountering beautiful temples views within a quiet atmosphere.
What are people most surprised about when they visit your region for the first time?
The history of the lost city of Angkor and the modern history of Cambodia as it relates to the holocaust of Cambodia (also known as Khmer Rouge).
Is there a particular site, dish or cultural element that you most enjoy introducing people to?
My favourite site is, of course, Angkor Wat.
What is your favourite temple in Angkor Park and why?
Ta Prohm temple. It's the only temple that has remained in its original condition since being found in the early second half of the 19th century. Gigantic trees coil around the structure and give it ambiance. 
Favourite hotel in your region?
Definitely the Raffles Hotel.
Favourite restaurant in your region?
Chanrey Tree or Sokhak River.
The top destination you haven't been to, but would like to visit. (And why?)
I'd love to travel to New York or Miami. A friend of mine who acted as a sponsor for my education many years ago is now living in Miami and I'd love to go see him. And why New York? I'd love to compare the differences between New York City and Siem Reap, to see the possibilities and the potentials.  
Someone has just landed in your region, where they don't speak the language. What's your number one piece of advice for them?
Learn the proper greeting gestures. Generally, we greet people with both of our hands joined together and say 'jom reap sour.'
How did you get the nickname Fin?
I was born with the name Fin, the most common name for someone who is a descendant of the Cham ancestry; the Cham people descended from (what is now) central Vietnam when they lost their kingdom to Vietnam in the 18th c.
For more Fin, check out this video!
View this post on Instagram